Creating a multi-purpose closet is a goal everyone should strive for. You don't have to own ten pairs of sneakers to look fashionable, but a single pair of gym shoes can elevate so many of your outfits. With just a little bit of creativity and the right inspo you can save money and be more thoughtful about the way you spend it. Additionally, you'll also help the global problem with fashion waste, so go ahead and read all about the chic ways you can dress up your gym shoes.

Bold Suiting
Bold suits are a fashionista's dream! So whenever you feel like your ensembles are boring, surprise the world with the most unexpected combo- a fun suit and your fitness sneakers. Eye-catching prints and fun colors are a top priority in suiting this season, so go ahead and wear all the vivid, striking patterns and hues you can get your hands on.
Athleisure With A Dose Of Chic
Athleisure is a go-to style for so many ladies, so it's only natural for gym footwear to fit perfectly into these looks. Start with loose, oversized, comfy tracksuits in bold colors, and finish off with a chic, classy trench coat. The only thing that's missing is your comfy sneakers that tie the entire attire together.
Cute Florals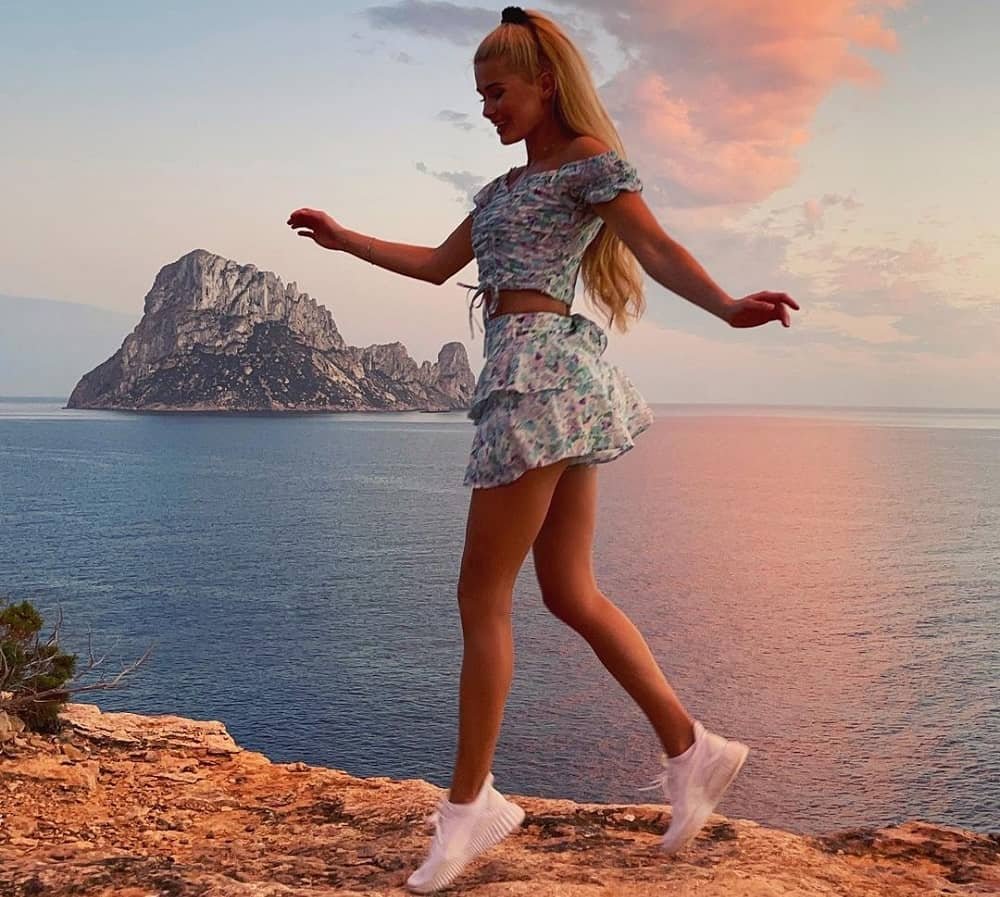 Did you know that your favorite gym sneakers can look so cute when paired with a floral set? Well, if you own a pair of simple shoes, you usually wear when working out and you want to give them a new purpose, just take your favorite floral skirt or top, and it's time to go out.
Denim Is Always A Good Idea
Denim outfits will look fabulous with any type of gym footwear. It doesn't matter if you have bulky, simple, colorful, white sneakers- a full-on jean attire will do the trick. You can go for a simple but flattering jumpsuit or throw on a pair of jeans and a denim shirt. Whichever way you go, the sneakers will be the cherry on top.
Classy On Fleek
You simply can't go wrong with black pants and a white button-up shirt. To avoid looking dull, opt for wide-legged leather pants with statement stitching and a simple, crisp shirt. The only thing missing in the outfit is your gym shoes because they add that effortless and playful vibe. Another way to pull this outfit off is with a pair of high-quality leggings and an oversized white shirt. This is the best day-to-night look because you can easily dress it up or down.
Dose Of Colors
When you want to introduce a pop of color to your neutral outfits, this is the best way to do it. Leather trench coats are one of the biggest fashion trends of the season, so you should hurry up and do your own take of this ensemble. Also, the timeless Nike Cortez model is one of the brand's first designs, and it's still a staple in the closets of fierce fashionistas. So, if you ever feel like you need a comfy shoe you can take to the gym, but also include it in a trendy outfit, this one is it.
Final Thoughts
Are you ready to transform into a trendsetter the moment you leave the gym? If you've been trying to find a new purpose for your gym shoes, the outfits we shared above are a great way to look even more fashionable.